Introduction to patchwork quilting
The word quilt is derived from the latin 'culcita, which means something that is stuffed or stitched through, such as pillows and mattresses. The modern definition of a quilt is an item made up of three layers - the quilt top, wadding (batting) and backing - and anchored together with stitching that is passed through all three layers, referred to as quilting. An age-old skill, patchwork and quilting has been around for centuries, with many of the older quilt patterns still popular today - the picture below shows a quilt made in the traditional 'double wedding ring' pattern, often made as a wedding gift - as this one was!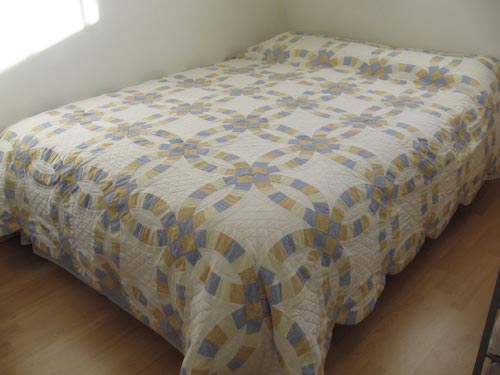 The quilt top is often very decorative - the word patchwork refers to a quilt top that is made up from many different pieces of fabric, i.e. small patches, that are stitched together to make the whole. Other methods for making the quilt top can be just as effective however, such as applique - where fabric motifs are applied to a background fabric - or wholecloth quilts where the quilt top is made from a single piece of fabric and the decorative effect is acheived via the quilting stitches.
Quilting is a skill that is full of inspiration and artistic talent, and the finished products can be as functional or decorative as required. More than that, when you start quilting you can be introduced into a friendly community, with quilting groups and classes all over the country who usually welcome new members with open arms! Quilting opens a whole new world, and friends and family will be delighted with finished products - such as the quilt below, there is nothing lovelier to give to a new baby than a handmade quilt, and quilts made and given with love will be treasured for years to come!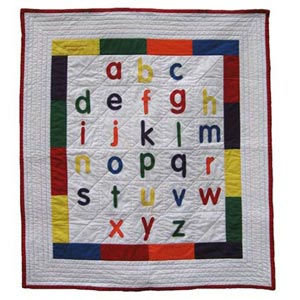 This patchwork and quilting guide will hopefully give you all the information you need to start quilting, as well as recommendations for further reading and resources - it's amazing how quickly you will be able to produce a work of quilting art of your own!