Free Samples
Buying fabric online can be daunting, and one of the biggest worries is that the fabric won't look the same 'in the flesh' as it does on your computer monitor. Here at Pelenna Patchworks we fully understand the need to see fabrics, especially if you are trying to match them to a current project or colour scheme.
To this end, we offer fabric samples completely free of charge - if you would like to order a sample of any fabric, simply select the 'sample' option from the drop down menu on the product page: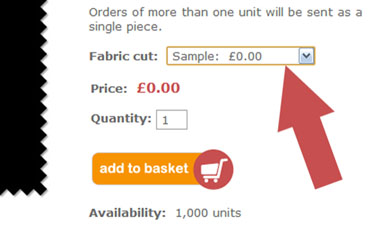 If you are only ordering samples, you will not even be charged postage (UK only). Simply go through the checkout procedure with the samples in your basket, providing your name and address, and we will receive the sample request when you complete your order. You will not be asked for any payment details. We will then send them out as soon as possible via Royal Mail first class post. Overseas sample requests will be charged the lowest postage band for the region, £3.60 for Europe and £4.75 for the rest of the world.
If you are ordering samples along with other items they will be added to your order and there will be no additional charge on top of the standard postage.
Please note that we will send out a maximum of 10 samples in one order, and only one sample of each fabric. If more than 10 samples are ordered, we will only send out the first 10 on the invoice. Samples are also limited to 10 per customer, per day - this is the maximum that will be sent on any day, other samples ordered will be cancelled.
We make every effort to send sample requests out as soon as possible, however at busy times standard orders take priority and there may be a delay of a day or two in sending out free samples.