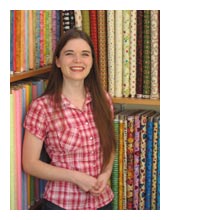 Pelenna Patchworks is an online UK quilt shop, established by Sarah Phillips in 2007 and supplying tools, fabric and equipment for quilters and sewers alike!
We have a huge range of quilting tools, patchwork fabrics and sewing supplies, as well as a selection of knitting, crochet and felting accessories, so we really are a one stop shop for all your crafting needs!
Whether you are an experienced quilt maker or just starting out in this traditional craft, we should have products here to suit your requirements. As we are based here in the UK we pride ourselves on our fast delivery - you can read some of the product reviews to see that customers appreciate getting their orders quickly, after all, no one likes to wait too long before getting to play with new fabrics! It can be incredibly satisfying to finish a patchwork quilt, and we stock everything in our store that you could need to complete a project, from cotton prints, to wadding, thread and backing fabric as well as all the items needed for the construction - fill up your sewing room with handy gadgets that make quilting so much fun!
We are an internet only quilt shop, so unfortunately we are not open for visitors, however you can contact us by telephone or email and we will always try and help with any quilting or shopping related enquiries!