Free quilt patterns
Free quilt patterns for small projects through to full size quilts - click on a picture to download the pdf instructions. Make sure you visit regularly as we will be adding new designs as they are finished!
Would you like to receive free quilt patterns by email? Simply sign up with your email in the form below to receive free patterns direct to your email address as we design them (up to a maximum of 4 per month) - never go short of ideas with this free resource!
Sign up to receive free quilt patterns by email: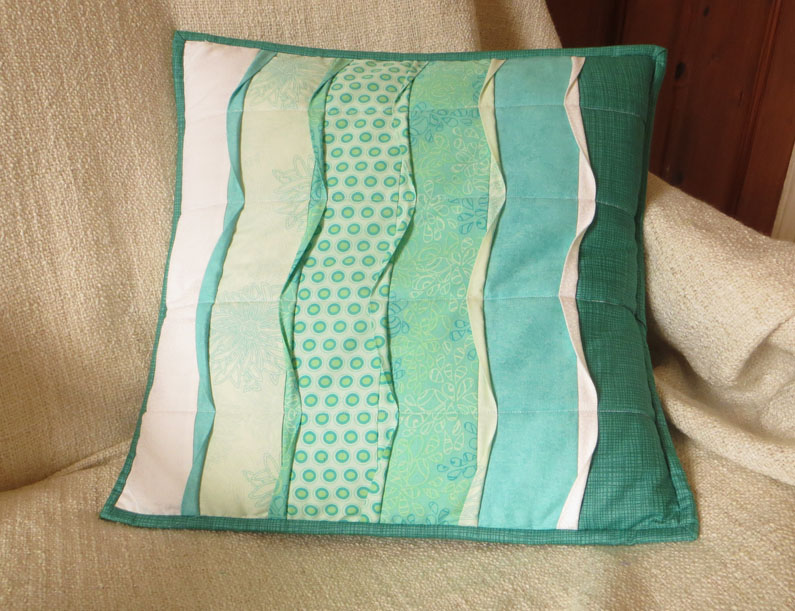 Wave cushion cover - A pattern to make this fresh looking wave design cushion cover using fabrics from our turquoise fabric section. This effective textured design creates a complicated looking effect using a simple folded fabric technique, so it is perfect for beginners.
We have a kit in stock containing all the fabrics and wadding you need to make the cushion cover, plus full colour instructions, you can find the kit here.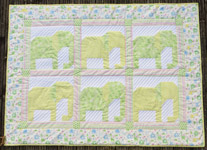 Elephant cot quilt - Make this fun, elephant themed quilt in neutral colours from the Bobo Baby fabric range, perfect as a gift for a new arrival!. Great to practise your rotary cutting and piecing skills as the elephants are made up from smaller patches, but straightforward enough for beginners and intermediate quilters alike.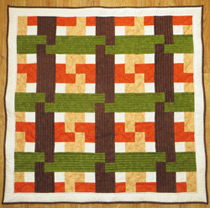 Autumn Weave quilt - Make this small quilt in beautiful Autumnal colours from Makower's Spraytime range. Perfect as a lap quilt, throw or picnic blanket, this is a deceptively easy quilt to make, with the complicated looking weave effect achieved using only 2 simple blocks - great for beginners!
We have a kit available containing all the fabrics required to make the Autumn Weave quilt top and binding here.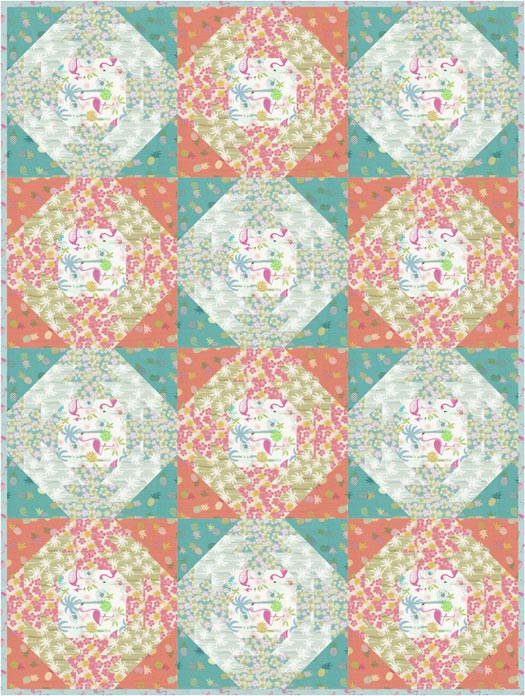 Tropicana picnic blanket - Make this gorgeous picnic blanket using fabrics from the Tropicana range by Lewis & Irene. Tropical prints in bright colours make a picnic blanket it would be a pleasure to relax on, or you could use it as a throw to brighten a lounge or conservatory for the summer! The pattern is based on the pineapple design, the instructions are written to make the blocks using the rotary cutting technique but a foundation pattern is also included if you prefer that method.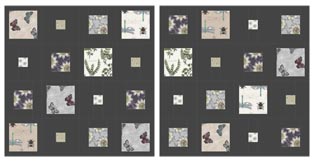 The Botanist cushion covers - Make this pair of matching cushion covers using fabrics from The Botanist collection by Lewis and Irene. Lovely neutral shades make these cushion covers ideal for a modern house, with the Victorian botany book style prints adding interest. This is an easy pieced design perfect for beginners. The pattern is designed so that you can use a 10 piece stash pack for all the prints, so take a look at our stash pack collection for other colour options!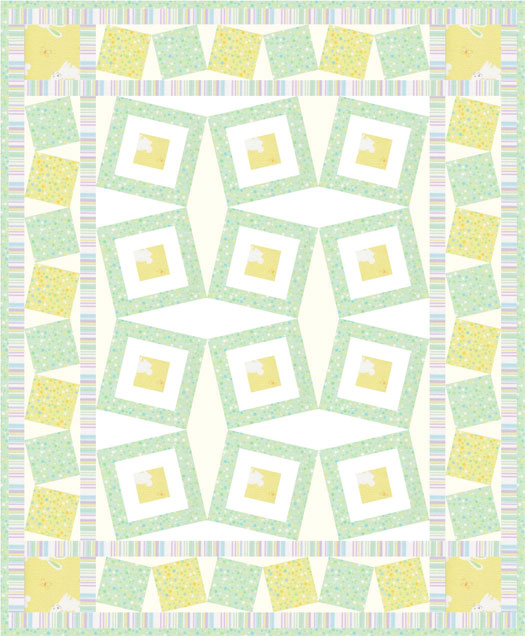 Benartex Bunny Hop baby quilt - Make this gorgeous baby quilt using the foundation piecing method (a great tutorial for this method can be found here). This free baby quilt pattern has full colour instructions to make a 33" x 39" quilt, perfect as a baby cot quilt or playmat. The pattern uses the neutral colours from the collection, but Bunny Hop also has all the fabrics in blue or pink so you can adapt it to your needs. The foundation block patterns can also be downloaded to print - click for the small block pattern or the large block pattern.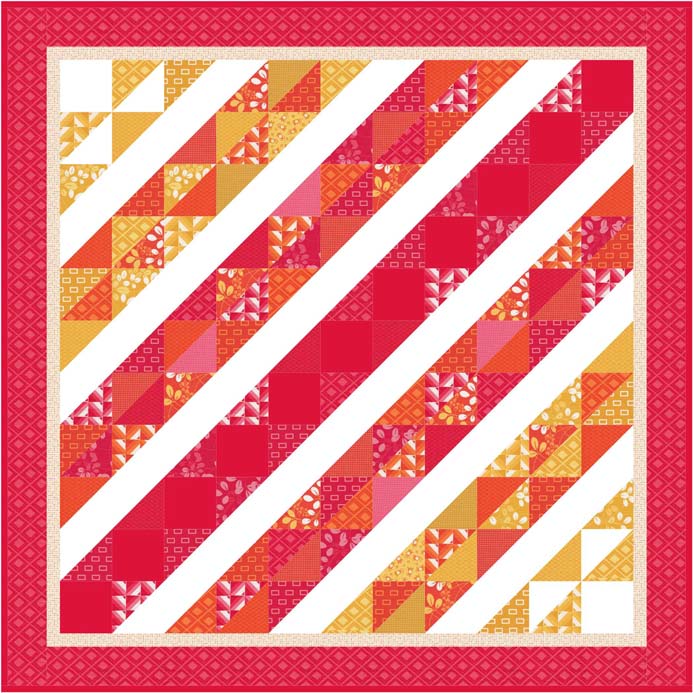 Moda Simply Colourful quilt - brighten up your home with these jewel bright colours from the Moda Simply Colourful range. This free quilt pattern has full colour instructions to make a 52" x 52" quilt, ideal to use as a throw over the back of the sofa! Alternative suggestions for colour and fabric schemes are included with the pattern.
A kit containing everything you need to make the Moda Simply Colourful quilt top and binding is available here.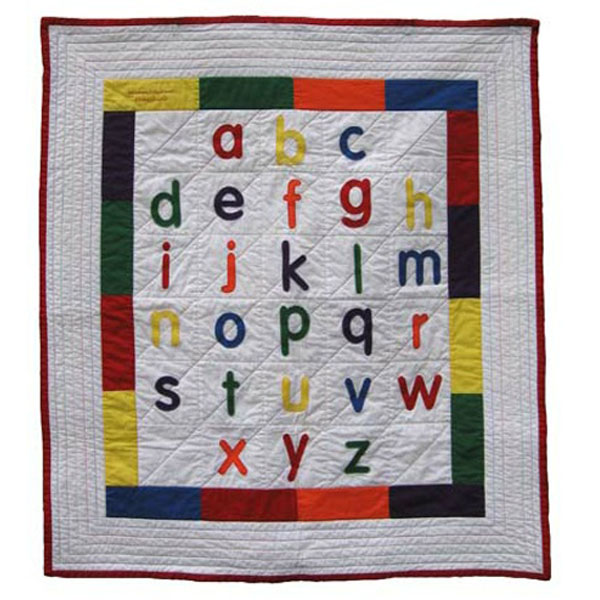 Alphabet cot quilt - create this bright, fun and educational cot quilt using just plain colours - great to perfect your applique skills, and go wild with the quilting to make the design really jump! This free quilt pattern uses plain cotton fabrics, one cot size quilt wadding, Bondaweb, and a selection of quilting threads to contrast with the white backing.
A kit containing everything you need to make the Alphabet cot quilt top and binding is available here.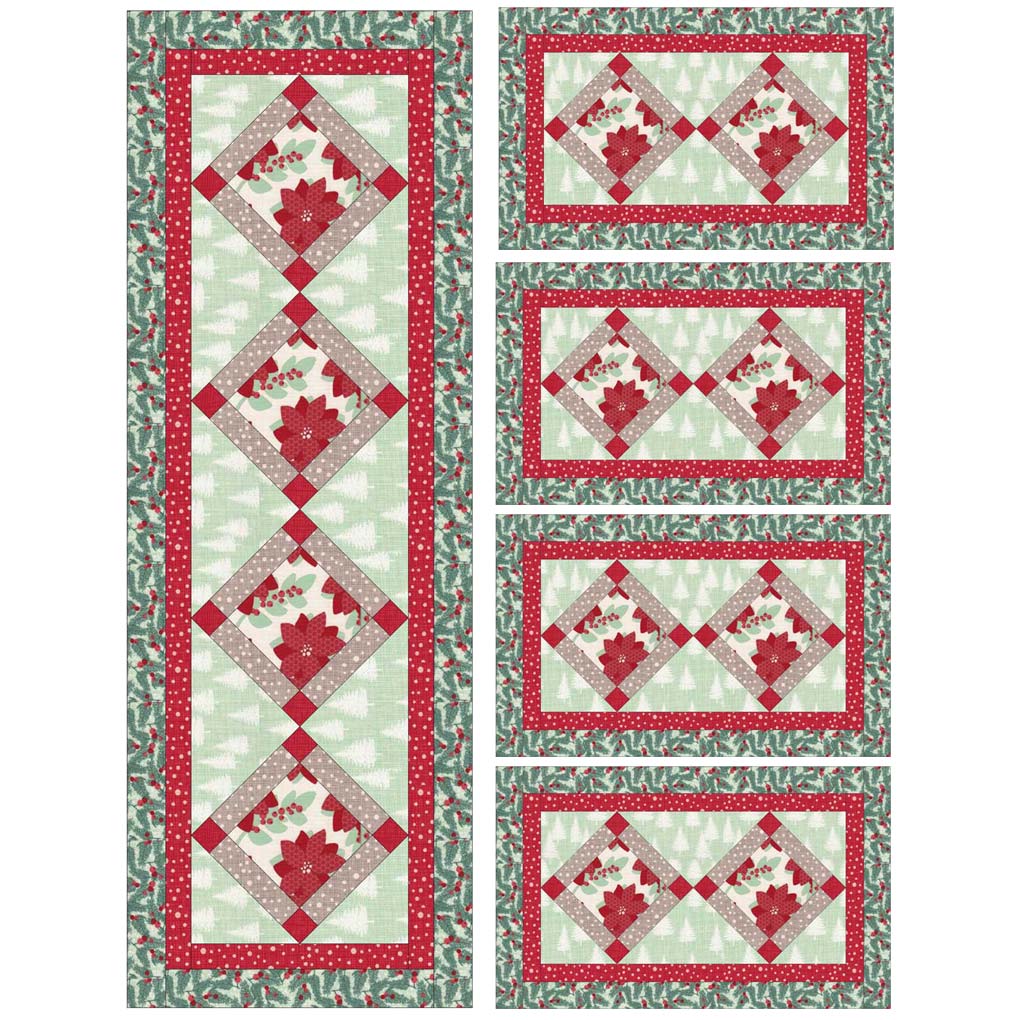 Christmas Table Runner and Placemats - free quilt pattern to make a festive table runner and four matching placemats. The fabrics used are from our Winterberry collection by Moda, but the pattern will look good with any Christmas fabrics, or other prints if you'd like to use the placemats and table runners all year round (a couple of suggestions using non-Christmassy ranges are included with the pattern). This pattern will really smarten up your dining experience!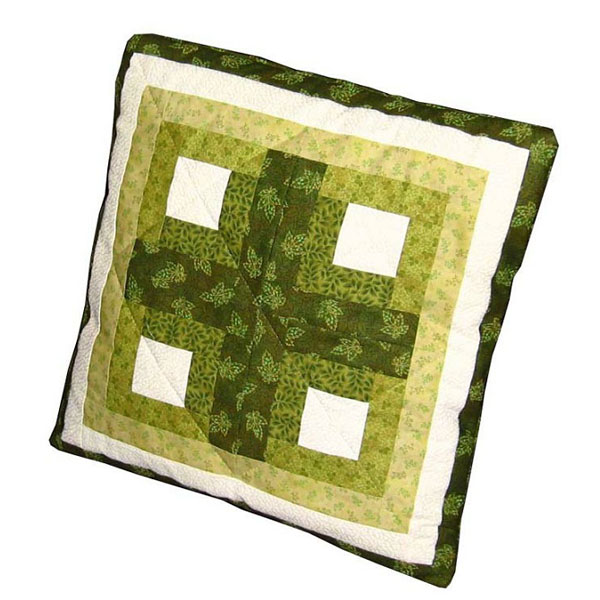 Log Cabin Cushion cover - a lovely 16" x 16" cushion cover using graded shades in the same colour, a perfect introduction to the log cabin technique if you've never tried it before. This free cushion cover pattern uses Vilene Stitch n Tear or similar tear away stabiliser, 4 green fabrics in graded tones, cream fabric, polyester wadding, and invisible thread or other matching quilting thread.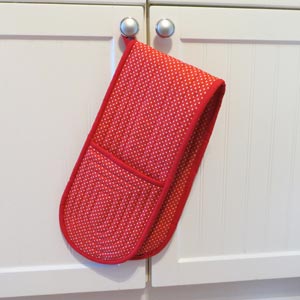 Spotty Oven Glove - Quick and easy, this free pattern makes up a classic oven glove design complete with hanging loop that will instantly brighten up your kitchen! A great way to practice curved bindings and quilting techniques on a small project - this free pattern would be an ideal project to start free motion quilting with.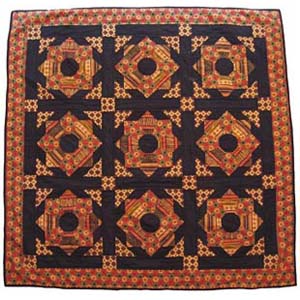 Country lap quilt - a lovely small project to make by hand, using English paper piecing. Download the paper piece templates here (ensure your printer zoom setting is set to 'none' for the templates to print at the right size), and enjoy this therapeutic method in front of the television or listening to some relaxing music! This free quilt pattern makes a lap quilt approximately 41" x 41" in size, perfect as a throw or a winter warmer for the sofa - Autumnal coloured fabrics are ideal for this pattern.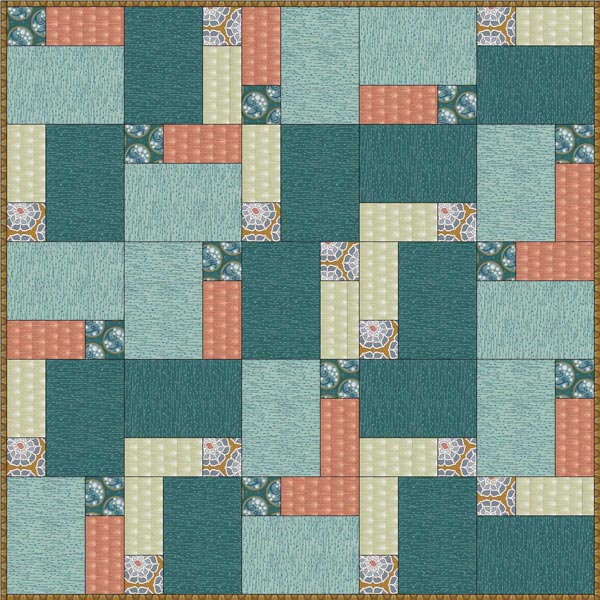 Cascade lap quilt - Made using the Cascade collection by Jessica Levitt for Windham Fabrics, this free quilt pattern makes a lap quilt approximately 50" x 50" in size, perfect as a throw or occasional quilt in a contemporary living room or conservatory - modern, fresh fabrics are ideal for this pattern.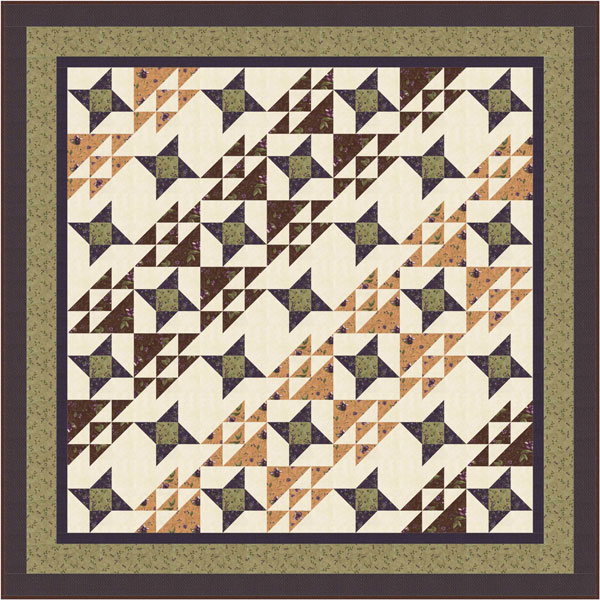 Lady Slipper Lodge double quilt - Made using the Lady Slipper Lodge collection by Holly Taylor for Moda fabrics, this free quilt pattern makes a double quilt approximately 80" x 80" in size, perfect to finish off a traditionally and tastefully decorated bedroom.